to see the rest of it -[
http://blackblackberry.livejournal.com/19190.html#cutid1
]
An old alley, a burnt attatchment, a catwalk, and an old train factory. Would've taken pictures of the inside but my camera died. :(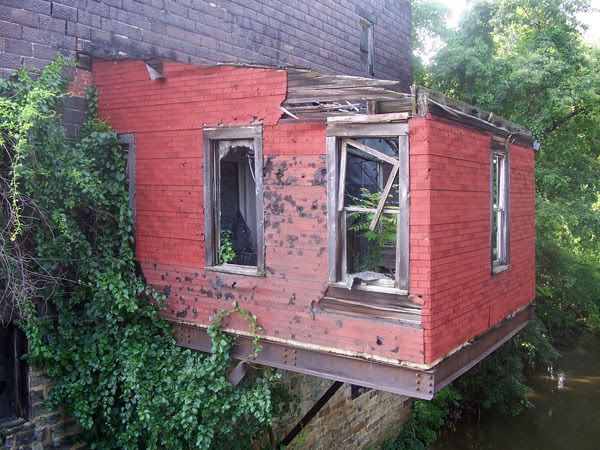 It's image heavy. Sorry.
I was lucky enough to be heading through the Crowsnest Pass from BC back home into Alberta att the end of a fishing trip this weekend. Its an interesting area. Its been an urban area since the late 1800s, a string of small (previously much larger towns) that end where the next one begins. (Contrast that with the rest of Alberta where you can drive for a couple hundred kilometers before stumbling upon the next urban area.)
Coal was king in this area until the first world war, when the prices crashed. The whole area has been in a state of urban decay ever since.
Michel Hotel, Front View.

All that remains of Michel/Natal is the garishly pink Michel Hotel. There's not much left inside, from what I could see. I wasn't about to go in there without the cover of darkness and a good support team.
Roxy Theater, Coleman Alberta

The ol' Roxy, she's seen better days. This is in downtown Coleman.
The rest of the pictures are here:
http://pics.livejournal.com/labyrinthman/gallery/00051g2f
Not all of the rest of the gallery is urban decay as such, but is linked to the area. I have some pictures of the tombstones from the Hillcrest Mine disaster in 1914, some more industrial decay, etc. Its no Moscow, London, Toronto, or other major exotic urban centres, but decay takes place in the smaller urban locales as well.